LeBron James to Wear New Number Next Season, Anthony Davis to Take '23'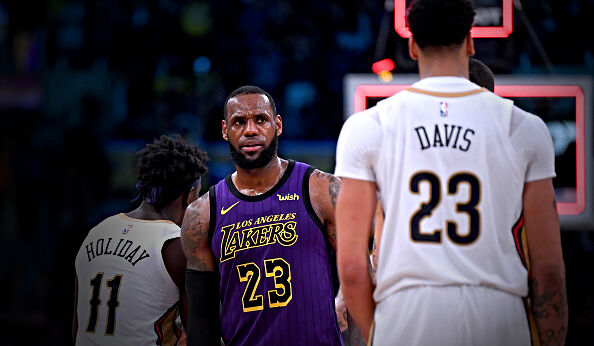 LeBron James will reportedly be wearing a new number next season for the third time in his career, as Yahoo Sports' NBA Insider Chris B. Haynes is reporting LeBron will let Anthony Davis wear the number 23 that Davis has worn during his entire NBA with the New Orleans Pelicans and his one season at Kentucky.
LeBron wore number 23 his first seven seasons in the league, before switching to his U.S. National Team no. 6 for the Heat since Miami had already retired the number 23 in honor of Michael Jordan.
Since 2014 LeBron has worn '23' with the Cavaliers and Lakers.
LeBron has not said what number he will wear yet, but the numbers 8 (Kobe Bryant), 13 (Wilt Chamberlain), 22 (Elgin Baylor), 24 (Kobe Bryant), 25 (Gail Goodrich), 32 (Magic Johnson), 33 (Kareem Abdul-Jabbar), 34 (Shaquille O'Neal), 42 (James Worthy), 44 (Jerry West), and 52 (Jamaal Wilkes) are all retired.
The elephant in the room to many is the fact Davis just waived his $4 million trade kicker from New Orleans. Of course, this freed up more cap space for the Lakers to better maneuver themselves to possibly acquire a third superstar, but many around the league are naturally speculating that LeBron 'gifted' the no. 23 to AD as tribute to Davis freeing the team with the extra money.