Why Ben Roethlisberger Will Win the Divorce With Antonio Brown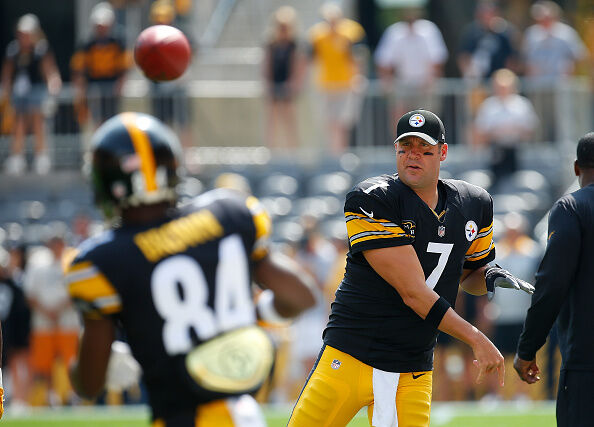 Colin Cowherd:

"Big Ben, you're the quarterback, stop talking about Antonio Brown!!…Let the wide receiver win the OFFSEASON. The greatest revenge is living well. Who has won the divorces in sports? Kevin Durant and Russell Westbrook – KD; he won titles. LeBron and Kyrie – LeBron; got the Finals and Kyrie couldn't get along with anyone in Boston. Dez Bryant and the Cowboys – Cowboys; made the playoffs and Dez is still unemployed. Chip Kelly and the Eagles – Eagles; Philly won the Super Bowl. Khalil Mack and the Raiders – Khalil Mack; Bears got the playoffs and Raiders got to fourth place in the division. Kawhi and the Spurs – Kawhi; won another Finals MVP and Spurs exited the playoffs in the first round. Who wins these breakups isn't determined by sports talk hosts, the winner is who WINS. You know who I think is going to win. I think the Steelers are going to win their division and end up at a minimum, in the AFC Championship."

(Full Audio at Bottom of Page)
Listen to Colin Cowherd discuss Antonio Brown and Ben Roethlisberger's 'dirty laundry' going viral on Twitter this week, as the former battery mates turned spurned lovers are coming to blows through the media.
Brown hasn't shied away from blasting Roethlisberger since his exit from Pittsburgh, and even made a tweet yesterday that emphatically stated that he was never friends with Ben (Tweet has since been deleted).
Colin says this is another classic sports divorce, with the winner of the split only coming down to who wins in the end, NOT the one who was the loudest in the media trying to embarrass the other one.
Check out the audio below as Colin says Big Ben is going to come out of the divorce looking pretty, as Colin loves the Steelers wideouts like Juju Smith-Schuster and James Washington stepping in for Brown, and has the Steelers pegged for the AFC Championship Game at least, while Colin has the Raiders finishing in the basement of the AFC West.