Doug Gottlieb Says Lamar Jackson Predictably Came Back Down to Earth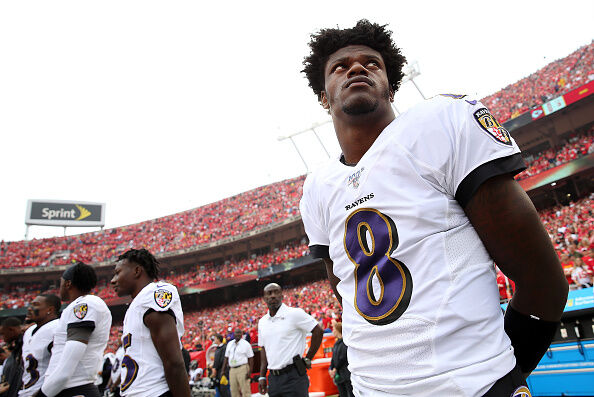 Doug Gottlieb:

"This is the real Lamar Jackson. He can run and hit you with the home run but he's just not efficient and able to throw the ball into tight windows. If he gets behind the chains and it's 2nd and 15 or 3rd and 13 there's almost no chance. Level of competition is everything, and of course your quarterback is going to have crazy numbers and you're going to look ridiculously good versus terrible teams. One guy [Patrick Mahomes] looked the part and the other guy looked like Lamar Jackson. Arizona and Miami's defense stink. That was the story, the story wasn't Lamar Jackson. It's not Lamar 'Hatorade' it's just the reality."

(Full Audio at Bottom of Page)
Listen to Doug Gottlieb explain why he wasn't impressed by Lamar Jackson's Week 3 losing performance against the Kansas City Chiefs in Arrowhead, and why he thinks Jackson's 22 of 43 performance for zero touchdowns is a much more accurate representation than his MVP-caliber numbers from Weeks 1 and 2.
After lighting up the Dolphins and the Cardinals and opening the season with a 7/0 touchdown-to-interception ratio, members of the media were anointing the second-year starter as an NFL MVP candidate.
Gottlieb says the story of Baltimore's first two wins shouldn't have been Lamar Jackson's elite play, but instead, how truly incompetent the defenses of Miami and Arizona are, who are both winless teams allowing the most (MIA) and fourth most (ARI) yards per game in the NFL.
Check out the audio below as Doug details why he doesn't believe Jackson can ever be a precision passer in the NFL on anything farther than a dink and dunk, as Gottlieb thinks Jackson will never be a dangerous downfield thrower who can beat defenses daring him to the throw the ball over the top.