Colin Cowherd Says Baker Mayfield's NFL Ceiling is Only as a 'Game Manager'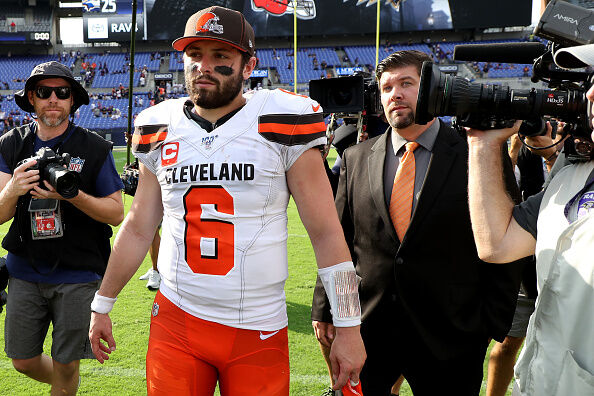 Colin Cowherd:

"Did you notice a trend around the NFL yesterday that the young quarterbacks that teams needed to save the day struggled? Josh Allen, Jared Goff, and Kyler Murray couldn't, but in Cleveland they didn't ask Baker Mayfield to do that. They rushed for almost 200 yards, almost 7 yards per carry, and had the ball for 31 minutes. They didn't ask Baker to save their bacon, they needed him to manage the game, make a handful of big throws on play action, and to make sure they were emotionally in a good spot. When he's asked to throw over 32 times his record is 3-9. When he throws it 31 times or fewer he's 6-0. I keep hearing what a great athlete he is… He runs a 4.84 40 and is 5'11 1/2... Kyler Murray could have been a MLB player, THAT'S a great athlete. If you're thinking that with Mayfield, you can play average defense, just worry about getting the ball to OBJ, ask him to throw 34 times and he'll carry you, that is a YOU PROBLEM. That's not who he is. The Browns figured out that Baker is not going to lead them, he's going to manage. Baker is not the savior, what he is, is potentially a franchise quarterback, who with a great defense and a running game, can make the needed throws and you can win divisions."

(Full Video at Bottom of Page)
Listen to Colin Cowherd explain why he thinks the Cleveland Browns are better suited with Baker Mayfield acting as a 'game manager' than this savior who can just win the Browns games with his arm.
The Browns are now in first place in the AFC North after a 40-25 victory over the suddenly lukewarm Baltimore Ravens. Mayfield posted a mediocre 59.6 QBR game with 342 yards, a touchdown, and an interception, but it was the running game (Nick Chubb 165 rushing yards and three touchdowns) and the defense (four sacks, two interceptions, one fumble recovery) that really shined in the emphatic Week 4 victory.
Check out the video below as Colin explains why Mayfield's career could end up being a success if the team focuses on putting him into positions as a game manager, equipped with a powerful defense and dangerous running game.