Lamar Jackson is the 'Bitcoin' of NFL Quarterbacks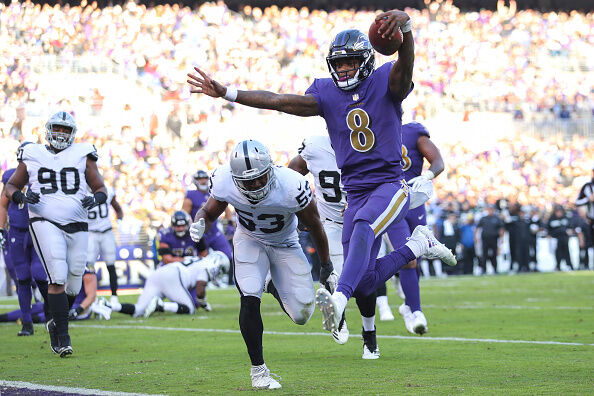 Colin Cowherd:

"We have a quarterback in this league who is the 'Bitcoin' of NFL quarterbacks and his name is Lamar Jackson. The first two games of the year he didn't play great defenses and was a rock star, but the next two games when he played Kansas City and Cleveland his numbers were bad, and there were times he was even terrible. Like Bitcoin, there are wide variations in his play. It's so rare that Tom Brady and Russell Wilson have bad games, but I'm okay with Lamar. He makes plays, he gives me a chance and he changes momentum. I no longer want 'Coaching Reliant' quarterbacks like Andy Dalton, Mitch Trubisky, Marcus Mariota, Kirk Cousins, and Mason Rudolph… They have to have the right offensive coordinator, the perfect protection, the perfect call, wonderful schemes, a running back who can catch, and yards after the catch or it's unwatchable. I'm willing to live with some turbulence from Lamar."

(Full Audio at Bottom of Page)
Listen to Colin Cowherd explain why Baltimore Ravens quarterback Lamar Jackson is the 'Bitcoin' of NFL players, as Jackson's sometimes turbulent career has yielded some of the highest of highs and the lowest of lows in the type of volatile yet often breathtaking rollercoaster ride that many Bitcoin stockholders have experienced.
After sprinting out of the blocks in Weeks 1 and 2 with electric MVP type performances against the Dolphins and Cardinals, Jackson plummeted back down towards earth in consecutive losses to Cleveland and Kansas City, as his incompletion, sack, and interception totals skyrocketed compared to the opening weeks.
But Colin says he can stomach the peaks and valleys of Jackson, and says he'd rather have a high-risk, high-reward guy like Jackson than a 'Coaching Reliant' quarterback like Marcus Mariota or Andy Dalton, who needs everything down from the coaching, to the schemes, to the offensive line, and the running game to be PERFECT in order to put up steady average numbers.
Check out the audio below as Colin says he wants the playmakers that add a little risk to their game, and the guys that can win games by their talents alone.