Colin Cowherd Says the Browns Need to Trade Odell Beckham Jr. ASAP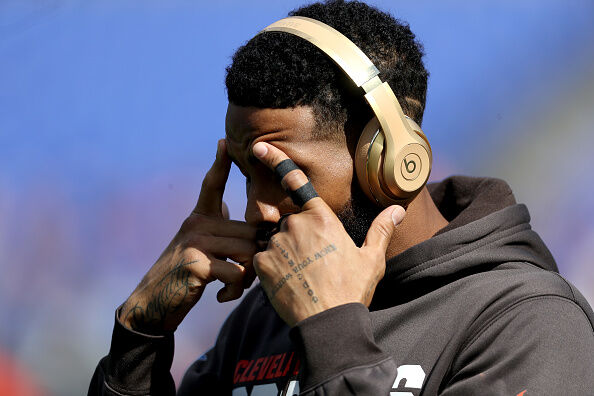 Colin Cowherd:

"This is not a hot take, it's the action Cleveland needs to take. I would strongly consider trading Odell Beckham Jr. They're trying so hard to take a gifted, brilliant, and sensitive wide out and wedge him, sometimes too much, into the game plan. Kareem Hunt will arrive November 10th and then you're going to have another mouth to feed. Cleveland's offensive line is completely overwhelmed against elite pass rushes. Everyone ripped Houston when they made that big trade and got Laremy Tunsil, but did you notice Houston last week? No sacks and five touchdown passes. They have a surplus of weapons and it's time to move off OBJ. His targets are going down every week and they're a better team when they run. Baker to Odell is not working and they're trying to force this thing to work. Do you even think he's happy there? Y'all knew he wanted to end up in LA, and on Instagram he wanted to be with Tom Brady. He didn't want to be on a historically losing franchise with a rookie head coach."

(Full Video at Bottom of Page)
Listen to Colin Cowherd explain why the Cleveland Browns need to already look to cut ties with superstar wide receiver Odell Beckham Jr. on the heels of their humiliating 31-3 loss to the undefeated San Francisco 49ers.
Colin says the formula for Cleveland redemption isn't a very complicated one, as the Browns offensive line is clearly their biggest liability, with skill players being their biggest surplus.
Colin says the obvious move is to trade Beckham Jr., who the team acquired from the New York Giants on March 13th in a trade for first and third round picks and safety Jabrill Peppers.
With superstar running back Kareem Hunt set to return from suspension on November 10th, Colin says the team needs to turn OBJ into offensive line help much like the Texans did in trading two first round picks to Miami for elite left tackle Laremy Tunsil, and says it's becoming painfully obvious that Beckham never wanted to be in Cleveland to begin with.
Check out the video below as Colin details why this isn't a 'hot take'.