Ravens Are a Fake Contender Until Lamar Jackson Can Win Games With His Arm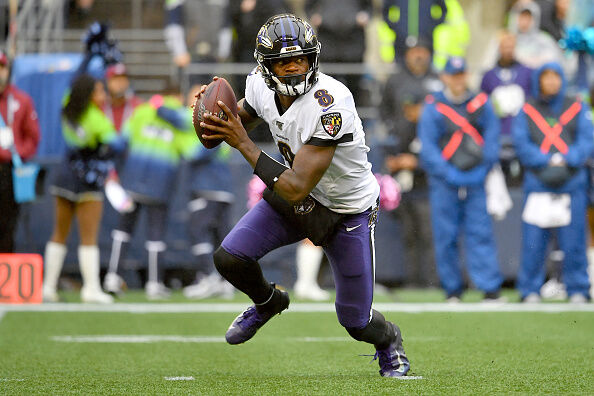 Ben Maller:

"Lamar Jackson won this game with his legs, not his arm. Jackson completed less than 50% of his passes and had just 143 yards passing with no touchdowns. Jackson completed four passes for 67 yards in the first quarter, but he only completed five passes for 46 yards the rest of the game. This is an unsustainable formula and it's not going to be possible to win big games in January playing this kind of football. Lamar can't be a 'dual-threat' quarterback if he can't throw. Until Jackson can throw on a consistent basis against good teams, then Baltimore is only a pseudo-contender."

(Full Video at Bottom of Page)
Listen to Ben Maller explain why he's not a believer in the 5-2 Baltimore Ravens as a legitimate AFC contender, despite their shocking 30-16 blowout over the previously invincible Seattle Seahawks.
Baltimore has one of the best defenses in the league and becomes avery tough matchup with their ability to run the ball and shred clock, but Maller is still concerned with quarterback Lamar Jackson, who did rush for 116 yards, but was also only able to complete 9 passes.
Jackson's running ability has obviously never been questioned, as the second-year player has a chance to surpass Michael Vick as the greatest running quarterback ever, but Jackson's passing is still in a primitive stage that doesn't seem to be evolving much. Jackson has thrown just one touchdown pass the last three games, and has posted passer ratings of 54.9, 84.9, and 69.4 in those three weeks.
Check out the video below as Maller details why the Ravens will always be a bogus contender if Jackson can't prove he can actually throw the ball at an NFL level.