Colin Cowherd: San Francisco 49ers Are the NFL's Best Team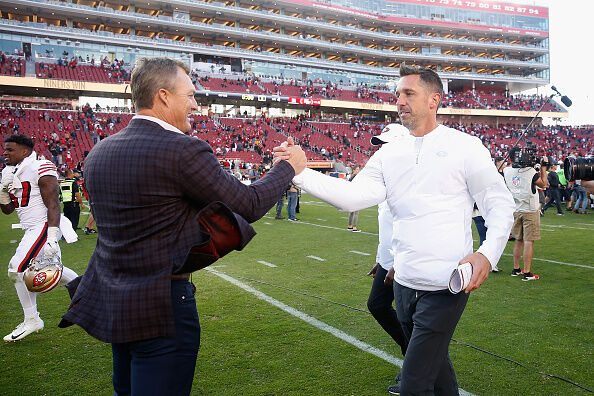 Colin Cowherd:

"2019 has been the year of the coach in the NFL but Kyle Shanahan is at the top of that list, not Bill Belichick. They destroyed a completely legitimate Carolina team yesterday. They do everything well, and they aren't doing it with great talent. Jimmy Garoppolo – second round. Matt Breida – undrafted. George Kittle – fifth round. Tevin Coleman – third round. They're missing their Pro Bowl left tackle and their exceptional right tackle, as well. The best coach in the NFL is in the NFC West, but it just so happens to be Kyle Shanahan. This team is unbelievable. They're clever, they're slick, and Shanahan gives you a clear schematic advantage. This reminds me of that old Seahawks team. Not only were they in the Super Bowl, but they were YOUNG… This team should be favored to get to Miami for the Super Bowl."

(Full Video at Bottom of Page)
Listen to Colin Cowherd explain why he thinks the San Francisco 49ers are the scariest team in the NFL a day after they eviscerated the formerly red hot Carolina Panthers.
After going 4-12 in 2018, the undefeated Niners have won their first seven games in 2019 and have begun to distance themselves from the ballyhooed Seahawks and Rams in a loaded NFC West division.
The 49ers defense has only allowed a combined 23 points the last four games, and held Panthers rookie quarterback Kyle Allen to a horrific 4.7 QBR and three picks. Coming into the game, Allen hadn't thrown an interception in his first 122 pass attempts.
Check out the video below as Colin details why the 49ers should be favored to win the NFC, and why he believes Kyle Shanahan is the best head coach in the NFL.