Clay Travis: 'Smoke & Mirrors' Lamar Jackson Will Be Exposed By Patriots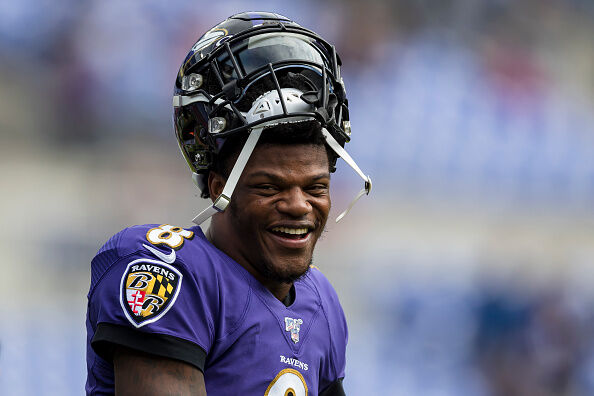 Clay Travis:

"Is Lamar Jackson truly ready to step into a primetime arena and beat an undefeated Tom Brady and Bill Belichick team? I think the answer is NO. Lamar Jackson is more smoke and mirrors than substance. I'm skeptical of running quarterbacks in the NFL because they don't last long term, and ultimately the NFL is a third down and eight passing league. I don't think Lamar Jackson can consistently convert first downs on third and eight. He has more in common with Tim Tebow, Vince Young, and RGIII who early on in their careers set the league on fire. Everything the media said about those guys then is a carbon copy of what people are saying about Lamar Jackson now. We saw what happened to Lamar Jackson when the Chargers designed a specific game plan to stop him in the playoffs, and Bill Belichick is 21-0 in his career versus first or second-year quarterbacks."

(Full Audio at Bottom of Page)
Listen to Clay Travis explain why he thinks Baltimore Ravens quarterback Lamar Jackson is nearing a sad and predictable exposure on Sunday Night Football when Jackson takes on the league's scariest defense in the New England Patriots.
Clay has never been on Jackson's bandwagon, saying he doesn't believe in the longevity of running quarterbacks and doesn't buy into Jackson ever flourishing as a pocket passer in the pros.
Jackson is one of the most electrifying athletes in league history but has struggled throwing the football the last three games, accounting for just one passing touchdown and three interceptions. Jackson didn't complete more than 14 passes during any game in his rookie season, and has never completed more than 24 passes during his second year.
Check out the audio below as Clay compares Jackson to past enigmas like Tim Tebow, Vince Young, and Robert Griffin III, who won at a very high percentage earlier in their careers operating as elite athletes, before they were left behind by a league who forced them to throw the ball from the pocket.