Saints Need to Bench Drew Brees and Go Back to Starting Teddy Bridgewater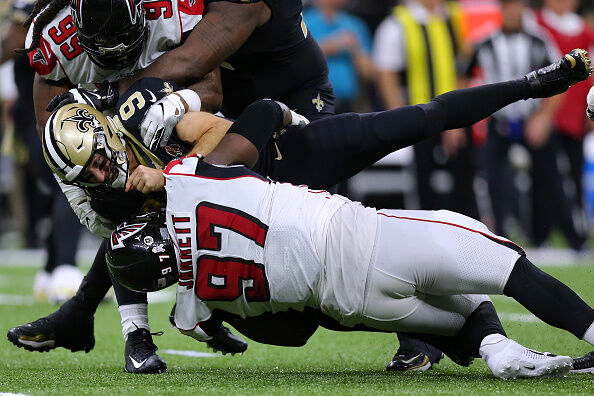 Ben Maller:

"You have to start to wonder about Drew Brees. When you're a 40-year-old quarterback questions arise all the time about whether or not you can still get it done. Right now, that elevator is going DOWN. People forget about Brees struggling down the stretch last year too, including against the Rams in the NFC Championship. How bad would Brees have to perform for the Saints to go back to Teddy Bridgewater? The only way I can see that happening is if Brees is crippled. Nobody has the balls in New Orleans to replace him on poor performance alone, even if Bridgewater is the best option. Sean Payton doesn't have the cajones to do it!"

(Full Audio at Bottom of Page)
Listen to Ben Maller explain why it's time for the New Orleans Saints to MAN UP and bench beloved, 40-year-old veteran Drew Brees, after Brees posted an ugly 24.4 QBR game against the harmless Atlanta Falcons in New Orleans' shocking loss to the NFC South scrub, 26-9.
New Orleans could be without superstars Marcus Lattimore and Michael Thomas on both sides of the ball this weekend versus a dangerous Tampa Bay team, and Maller wonders what exactly Brees would have to do statistically to be benched in favor of Teddy Bridgewater.
Check out the audio below as Maller details why it's time for Saints head coach Sean Payton to grow some cojones and BENCH Brees in favor of the previously red-hot backup Bridgewater, who went 5-0 as a starter while filling in for Brees during his rehab returning from a broken thumb.