Stop Saying Lamar Jackson is Going to Win the NFL's MVP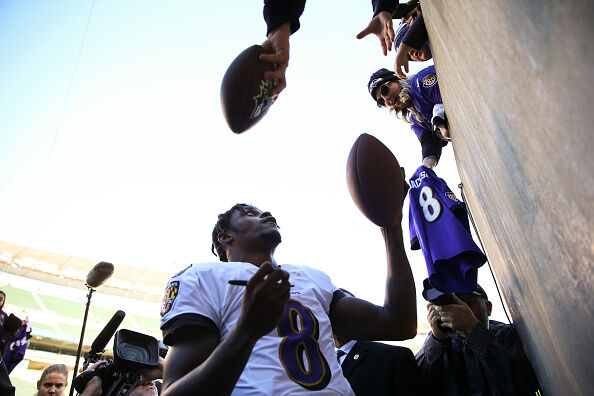 Ben Maller:

"Is Lamar Jackson now the favorite to win the MVP in the NFL? NO, NO, NO. Has he outplayed his expectations? Yes. But let's calm down here with the MVP talk, unless you think they Bengals are some underrated team and the greatest 0-9 team in the history of the NFL. People are being prisoners of the moment. At this very moment RUSSELL WILSON is the most valuable. The numbers Jackson has put up passing wise are misleading. Against the bottom of the barrel Dolphins and Bengals, Jackson went 32/37 (86.4%), for eight touchdowns, no interceptions, and an average of 14.7 yards per attempt. Against the other 7 teams the Ravens have gone against Jackson's completion percentage is at 62%, his yards per attempt is below average at 6.8 yards, and he's thrown 7 TDs and 5 INTs. NOT EXACTLY MY MVP. If he can play the Dolphins and Bengals then he's your MVP. He's provided Russell Westbrook type stat-stuffing. I give him credit, because you're supposed to enhance your numbers against the bad teams, but you're not supposed to receive credit for it!"

(Full Audio at Bottom of Page)
Listen to Ben Maller explain why he doesn't think Baltimore Ravens quarterback Lamar Jackson should be a legitimate NFL Most Valuable Player award candidate as the electric second-year quarterback appears to be one of the four front-runners for the award alongside Russell Wilson, Christian McCaffrey, and Michael Thomas.
Although Maller admits Jackson has far exceeded his somewhat lukewarm early expectations that saw him go 32nd in the first round in the 2018 NFL Draft as a work in progress, he doesn't understand why Jackson has elevated all the way to MVP candidate when a large chunk of his statistics came in bunches against cellar dwellers Miami, Cincinnati, and Arizona.
Check out the audio below as Maller details why Jackson has turned into a Russell Westbrook type stat-stuffer who is only capable of putting up monster passing numbers against garbage teams.