Colin Cowherd: There Will Be a Draft Day 'Bidding War' For Tua Tagovailoa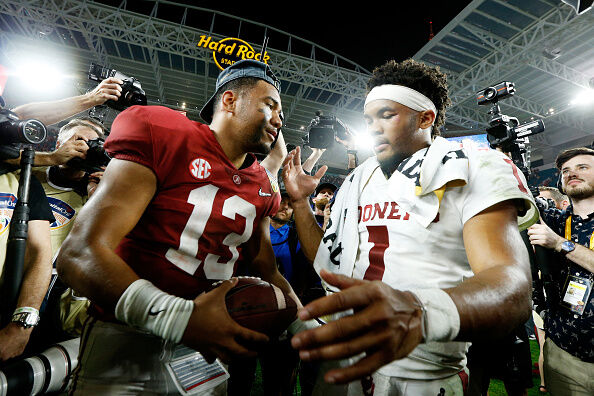 Colin Cowherd:

"I just read a ridiculous story that said Tua Tagovailoa is going to be 32nd in the first round. HAHA, that's adorable. He ain't going past six, folks. I'm predicting that there's going to be a BIDDING WAR for Tua. You're going to tell me that Tua, who Nick Saban gets misty over, and who Trent Dilfer calls the best prospect we've had in years , is going to drop to 32?? The injury will probably prevent him from going 1, 2, 3, or 4, but whoever drafts him at 5 is going to have a ton of power. Cincinnati, Miami, Denver, Tampa Bay, Los Angeles Chargers, Tennessee, Carolina, Minnesota, Indianapolis, New Orleans, and New England all have an urgent need for quarterback."

(Full Audio at Bottom at of Page)
Listen to Colin Cowherd explain why he believes there will be a massive Draft Day bidding war for Alabama quarterback Tua Tagovailoa, who was being hailed as one of the best quarterback prospects of the decade destined to go no. 1 overall until his catastrophic hip injury.
The injury ended his season with the Crimson Tide and could cost him 2020 as well, which naturally triggered a massive wave of fear into the potential idea of a guy who could possibly be damaged goods.
Colin acknowledges the injury and says it will likely cost Tagovailoa any chance of getting drafted ahead of LSU's Joe Burrow, or Oregon's Justin Herbert, but said the 2020 NFL offseason, which could be the most wide open in league history for quarterback shopping, will lead to a huge brawl for the rights to draft college football's most special talent at a discounted price.
Check out the audio below as Colin details the 11 teams who need a quarterback.