Aaron Rodgers' Career Has Been Defined By Not Elevating His Teammates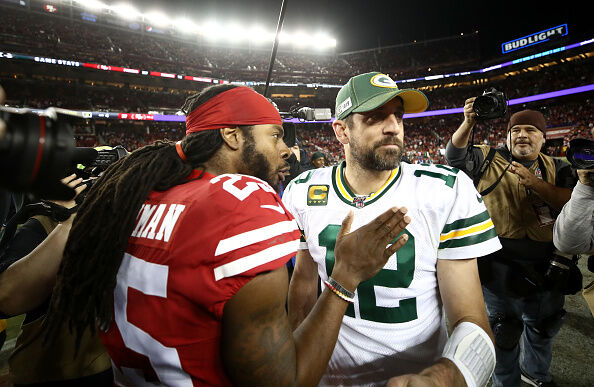 Bucky Brooks:

"The 'Greatest Thrower of the Football on Earth' Aaron Rodgers, I think that's what Rob Parker calls him, just threw for 104 yards in a FULL GAME. I called him the Russell Westbrook of the NFL on your show but I was wrong, he's actually the AUSTIN RIVERS of the NFL… I'm really disappointed, and at some point, if you're this guy everyone says you are you should be able to elevate your squad. He's one of the best quarterback we have ever seen, however, he's also nearing the end of a great career. We've heard for years that Aaron Rodgers is this great quarterback and everyone has held him back – but when we really look around the league and at those legendary quarterbacks that we're going to talk about for years and years, they have been able to do it with less. Tom Brady hasn't played with a cast of All-Stars for the majority of his career, and yet the Patriots have still been able to win. If we're measuring the career of Rodgers and saying he's going to go down as arguably the best QB ever, we have to see him elevate his squad and take them beyond a level of a division title or going a couple rounds in the playoffs. If he is that BAD MAN then we need to see him knock some people out and elevate a team that might not have it. He needs to be held accountable"

(Full Audio at Bottom of Page)
Listen to former NFL defensive back Bucky Brooks explain to Chris Broussard and Rob Parker why Aaron Rodgers really needs to end the last few years of his career on a high note, as Brooks thinks Rodgers is currently enveloped in a Hall of Fame career that might fall way short of the immaculate expectations set a decade ago when Rodgers won his first Super Bowl.
Despite many in the media anointing Rodgers the most talented quarterback of all time, he's only appeared in one Super Bowl despite making 9 playoff appearances.
Check out the audio below as Brooks explains why Rodgers has become a Russell Westbrook type quarterback in the league, as a guy who might indeed be the most talented at face value, but a guy who hasn't proven that he can elevate his teammates to a championship level.