Rob Parker Says Lamar Jackson is Better than Patrick Mahomes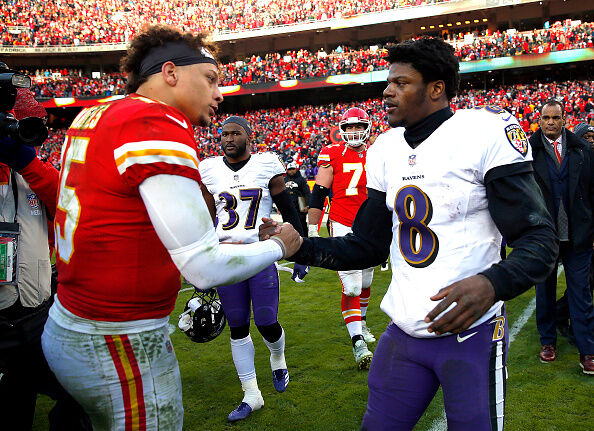 Rob Parker:

"I would rather have LAMAR JACKSON than Patrick Mahomes. I've seen Mahomes this year and even though he's putting up these big numbers they don't always win. As a quarterback you need a running game, even if it's YOU running the ball as the running back. As good as Mahomes is, we've seen that great arm and a guy who could do everything with the ball -- his name was Dan Marino. He didn't have the running game to complement it. Because Mahomes scores so quickly, it actually works against the team and doesn't eat enough clock. I think Lamar Jackson has a better chance to win a championship BEFORE Mahomes."

(Full Audio at Bottom of Page)
Listen to Rob Parker explain why he would rather have Baltimore Ravens quarterback Lamar Jackson over Kansas City Chiefs reigning MVP Patrick Mahomes, as the two signal callers will go down as having arguably the two greatest sophomore seasons in league history.
Jackson currently leads the league in QBR, is third in quarterback rating, has notched a 24/5 touchdown-to-interception ratio, and is currently 9th in the league in rushing yards, with another six TDs on the ground to boot.
Mahomes, of course, won the MVP last season after posting a 5,000-yard passing season with 50 touchdown passes compared to only 12 interceptions.
Check out the audio below as Rob details why Lamar Jackson's ability to run the football and control clock and tempo makes him the more dangerous quarterback, as Rob is worried that Mahomes could be a Dan Marino type player on a one-dimensional team who always scores quick and puts too much pressure on their own defense.