Stop Blaming Jason Garrett on Dak Prescott's Shortcomings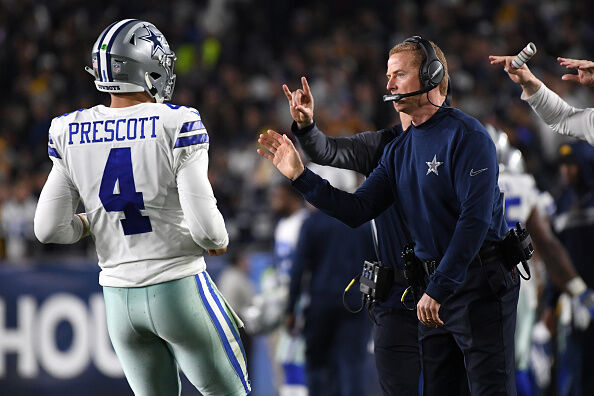 Ben Maller:

"The Dak Prescott fanboys have got an alibi. You gotta have a FALL GUY and they're blaming it all on Jason Garrett. Was Garrett badly outcoached in this game? Yes. Does he deserve to be ripped? Absolutely. But he didn't actually play in the game! Some in the media were hyping up Dak like he was an MVP candidate… He's been lighting up the scoreboard against some of the NFL's great bottom feeders and the worst pass defenses in football, but this was finally the opportunity for him to show that he's not a FRAUD. He couldn't do it! He is a tantalizing MIRAGE and an optical illusion. He's a PHONY and his stats aren't real. The Cowboys have played only four teams with a winning record and in those four games they are 0-4. He can only put up huge numbers against terrible teams or run it up in garbage time."

(Full Audio at Bottom of Page)
Listen to Ben Maller explain why he's tired of hearing Dallas Cowboys head coach Jason Garrett be the perpetually forlorned scapegoat for a Cowboys team who always seems to be on the brink of breaking through in the NFC.
Dallas is a meandering 6-5 team in the NFL's worst division, but is second in the conference in point differential, and on paper has one of the most talented teams in the league.
Coming off their disappointing 13-9 loss in New England over the weekend, much of the talk surrounding Dallas' dud were the pressing rumors regarding Garrett's job status. Maller however, thinks the blame needs to be levied on Cowboys quarterback Dak Prescott, who is one of the league's most misinterpreted players.
He's either a Top 10 QB and MVP candidate, Top 15 winner and playmaker, or a Top 20-ish game manager who needs an elite offensive line and running game to be able to produce.
Check out the audio below as Maller details why he thinks it's the latter with Dak, and why Garrett shouldn't be blamed for Dak's flaws.