Freddie Kitchens is the Scapegoat for Baker Mayfield's Incompetence at QB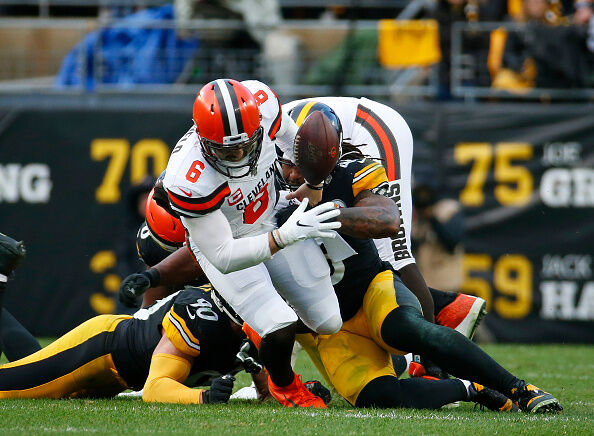 Colin Cowherd:

"Baker Mayfield is not as good as everybody thinks but is he really THIS bad?? Mayfield is currently the worst statistical quarterback in the league – last in completion percentage and last in passer rating with an egregious amount of wide receivers -- but we call it a 'Freddie Kitchens issue'… OR is the problem BAKER MAYFIELD? Cleveland had a very easy schedule at the end of last year and Mayfield was able to mask his mediocrity by elevating his stats against the Bengals. And once again, he's got an easy schedule facing backup quarterbacks late in the year that will mask and elevate atrocious numbers. Outside of the Vikings, he has the best weapons in the league at wide receiver and running back, and his numbers are at the bottom? But we bail on Mitch Trubisky for winning a division and we don't like Kirk Cousins even though he's putting up MVP numbers. He's 4-11 versus teams with a winning record. Folks, this is NOT a starting quarterback in the NFL." (Full Audio at Bottom of Page)
Listen to Colin Cowherd explain why the massively underperforming Cleveland Browns, arguably the league's most disappointing team in 2019, are mistakenly throwing head coach Freddie Kitchens under the bus instead of second-year quarterback Baker Mayfield.
Although Kitchens' has been a catastrophe in the PR department as an obviously ill-equipped mouthpiece to headline an NFL franchise, Cowherd believes the Browns' 5-7 record has to be attributed to the free-falling Mayfield.
Equipped with one of football's most lethal offenses with weapons the likes of Odell Beckham Jr, Jarvis Landry, Nick Chubb, and Kareem Hunt, Mayfield has posted one of the NFL's worst statistical seasons, ranking dead last in the league in passer rating and completion percentage, and currently on-pace to finish the season with 20 touchdowns and 19 interceptions.
Check out the audio below as Colin details why Kitchens has unfairly been made into Mayfield's scapegoat.