Doug Gottlieb: 'I'd Rather Have Sam Darnold than Lamar Jackson'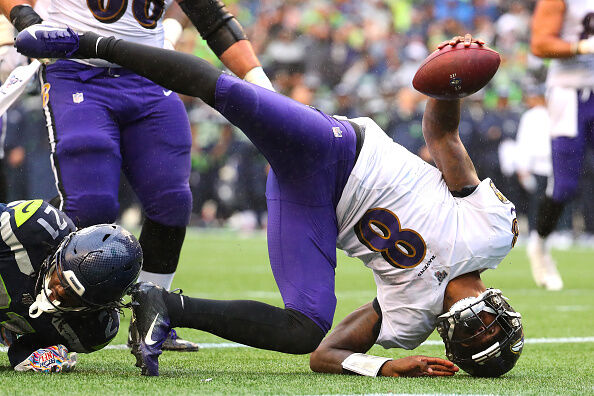 Doug Gottlieb:

"I would still to this day take Sam Darnold over Lamar Jackson – it's the long-term play… If you want to tell me that Lamar Jackson is a good long-term play then you're going to tell me that Cam Newton was a good long-term play too. Lamar is Cam without the attitude and arrogance. You have to be mobile but you also have to be able to throw and complete passes. He can do it on multiple platforms but he never throws outside the numbers… Unless they change the rules to where they can't hit you outside of the pocket, they're going to catch you and hit you. Cam was the biggest, strongest, and most athletic quarterback we've ever seen and his body broke down at 30. We're supposed to expect Lamar's to be different??"

(Full Audio at Bottom of Page)
Listen to Doug Gottlieb explain to Colin Cowherd why he thinks New York Jets quarterback Sam Darnold is the better long-term solution than Baltimore Ravens quarterback Lamar Jackson, even though Jackson appears to be the crown jewel of a 2018 NFL Draft class that saw Jackson go 32nd overall, behind players the likes of Baker Mayfield (#1), Darnold (#3), Josh Allen (#7), and Josh Rosen (#10).
Even though Jackson is the heavy favorite to win the MVP in 2019, Gottlieb isn't buying into Jackson's potential as a guy who can dominate the league as a running quarterback for years to come.
Gottlieb presents the career of Carolina Panthers quarterback Cam Newton, who at one point was the NFL's best player and MVP-winner in 2015, only to later become an embattled impeding free agent at the age of 30, with extremely unsightly injury baggage in the eyes of owners and GMs.
Cam is 6'5", 250+ pounds and one of the fastest and most powerful physical specimens in NFL history; if not even Superman himself can't remain upright, then how can a much smaller runner in Lamar Jackson last?
Check out the audio below as Gottlieb explains why Darnold has the better chance at a longer and more successful career.