Doug Gottlieb: Lamar Jackson Will Not Have Long-Term Success in the NFL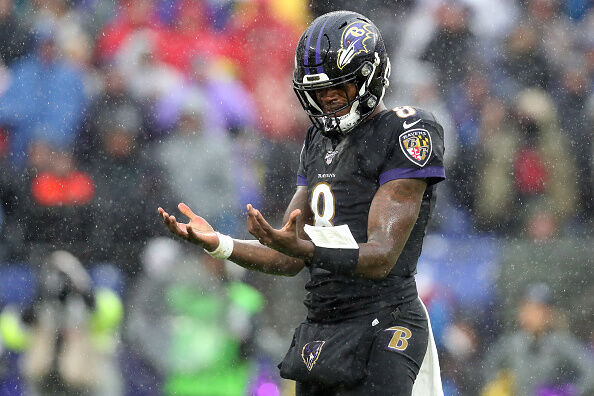 Doug Gottlieb:

"I would still to this day take Sam Darnold over Lamar Jackson – it's the long-term play… Lamar is a really nice kid but all these other quarterbacks do the 'quarterback thing' where they take over a room – Lamar didn't and doesn't... The Ravens went ALL IN on this Lamar Jackson plan and it's working and taking the league by storm. They were a perennial playoff team when he took over. Sam Darnold inherited the Jets with a different GM, different coach, and the worst offensive line in football. The Le'Veon Bell signing was a disaster. If you want to tell me that Lamar Jackson is a good long-term play then you're going to tell me that Cam Newton was a good long-term play too. He's Cam without the attitude and arrogance. You have to be mobile but you have to be able to throw and complete passes. He can do it on multiple platforms but he never throws outside the numbers… Unless they change the rules to where they can't hit you outside of the pocket, they're going to catch you and hit you. Cam was the biggest, strongest, and most athletic quarterback we've ever seen and his body broke down at 30. We're supposed to expect Lamar to be different??"

(Full Audio at Bottom of Page)
Listen to Doug Gottlieb explain to Colin Cowherd why he believes New York Jets quarterback Sam Darnold is the better long-term option than Baltimore Ravens quarterback Lamar Jackson, as the two second-year quarterbacks will forever be compared from a 2018 Draft Class that included Baker Mayfield, Josh Allen, and Josh Rosen as well.
Despite Jackson emerging as the front-runner for the NFL's MVP, currently leading the league in QBR, touchdown passes, and already having rushed for over 1,000 yards, Gottlieb doesn't imagine Jackson's playing style having much longevity.
Jackson is clearly one of the league's best athletes and most electrifying players but Gottlieb doesn't see how an unpolished passer who is not asked to make many challenging throws can have a decade-plus long career of success when we've already seen mobile guys like Cam Newton rapidly deteriorate by the age of 30.
Check out the audio below as Gottlieb details why he doesn't see Jackson remaining a star for very long.