Fox Sports Radio Host Calls Baker Mayfield a 'Boastful Idiot'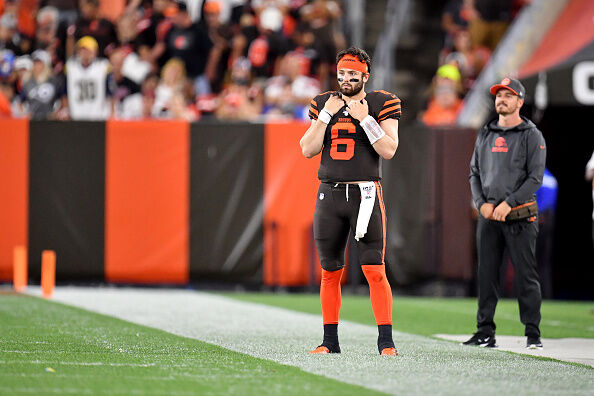 Ben Maller:

"Baker Mayfield likes to brag and he says he's fueled by the 'haters'… He's going to overdose on Haterade. He has that underachiever stigma where you fail to live up to the lofty expectations. Mayfield by any measurement has been a boastful idiot and terrible this year with the Browns. He's the guy who talks the talk and doesn't walk to the walk. He has the 32nd ranked passer rating in the NFL and is 30th in completion percentage."

(Full Audio at Bottom of Page)
Listen to Ben Maller rip Cleveland Browns quarterback Baker Mayfield after the outspoken signal caller fired back at ESPN NFL analyst Rex Ryan for calling him 'overrated as hell.'
It wasn't the way that Mayfield responded that surprised people, as Mayfield said of Ryan 'There's a reason he's not wearing any team colors' right now , but it's the repeated knee jerk reactions Mayfield has towards any member of the media who criticizes him.
Maller said Mayfield shouldn't be doing any talking at the moment when his Browns are 1-2 and he leads the AFC in interceptions.
Check out the audio below as Maller calls out Mayfield for constantly acknowledging an opinionated media who is simply calling it like it is during an atrocious start to the season in Cleveland.

The Ben Maller Show
Want to know more about The Ben Maller Show? Get their official bio, social pages & articles on FOX Sports Radio!
Read more