Jerry Jones Says He's 'Earned the Right' to Make Ezekiel Elliott Jokes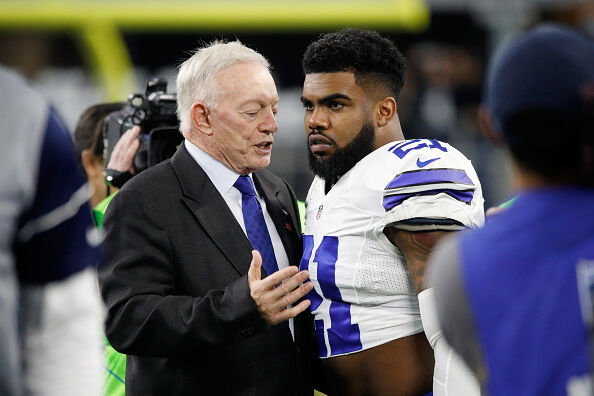 Colin Cowherd:

"Jerry Jones got angry when asked about the 'Zeke Who?' joke… And why would Jerry be angry? Umm, maybe because Jerry tried to get the NFL commissioner FIRED for not defending Ezekiel Elliott. Jones drafted Zeke, Zeke gets in trouble immediately, and Jerry goes to the wall for Zeke while the fans, the media like me, the NFL, and the commissioner all bail on him... Jerry STILL goes to the wall for him! And Zeke pays Jerry back by going to Mexico and holding out!... You don't think Jerry is justified for a LITTLE bit of his anger?? Jerry has defended Zeke to the core. Jerry is angry and you would be too if you went to the wall for somebody who got in trouble with the law and they paid you back with a holdout and trip to Mexico."

(FULL AUDIO AT BOTTOM OF PAGE)
Listen to Colin Cowherd defend Jerry Jones after the outspoken Dallas Cowboys owner made headlines this week for a comment he made out of jest about star running back Ezekiel Elliott.
When asked about backup running back Tony Pollard's successful preseason performance in Elliott's absence, Jones dropped a 'Zeke Who?' line while half-grinning to the delight of the giggling reporters, referring to Elliott's ongoing holdout with the team.
Elliott's agent said neither he or his client were amused in the slightest.
Jones would later say he's 'earned the right' to make jokes about Zeke.
Check out the audio or video below as Colin says OF COURSE Jerry has earned the right to make jokes about Zeke, and says for the amount of times Jones has stuck with Elliott through thick and thin, he has every right to be angry that the he's suddenly receiving backlash for joking about a player he's immensely gone to bat for.

The Herd with Colin Cowherd
Want to know more about The Herd with Colin Cowherd? Get their official bio, social pages & articles on FOX Sports Radio!
Read more