Why Ezekiel Elliott's Holdout Proved How Overhyped His Value Really Is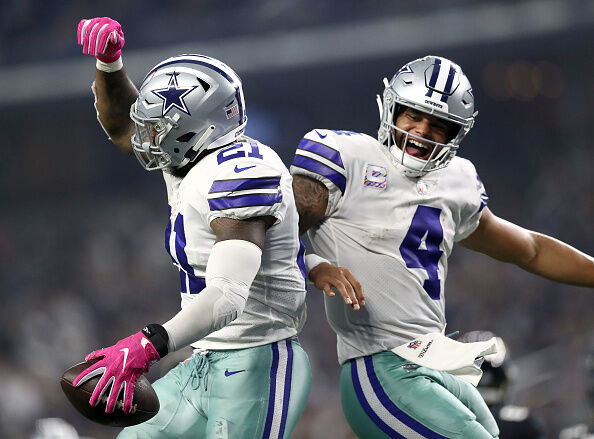 Colin Cowherd:

"I've been hearing for months that this is 'Zeke's team', he's the 'most valuable Cowboys player' and you 'got to get this deal done'… Oh, really? Well, he must have the world's worst agent because he just signed a contract that's less than DeMarcus Lawrence and less than half of what Dak Prescott will get. This has never been Zeke's team, this is Dak's team. If Dak had held out of camp, refused to report, and had gone down to Cabo to work out, do you think Jerry Jones would have been cracking jokes about Dak?? Jerry would have been on his private jet in 45 minutes a month and a half ago. Who do you trust, Dak or Zeke? Who do you want at the microphone after game, Dak or Zeke? Who do you know will never be in Cabo during camp holding out? This is Dak's franchise."

(Full Audio at Bottom of Page)
Listen to Colin Cowherd discuss Ezekiel Elliott's new contract with the Dallas Cowboys that ended the offseason's juiciest contract dispute.
Despite the NFL's two-time leading rusher inking a six-year deal worth, $90 million to become the league's highest paid running back, Colin thinks the messy holdout proved why Zeke's perceived value from prominent media members was always severely overstated all along.
Colin says he's tired of hearing how valuable Zeke is to Dallas and how the team can't possibly function without him, and yet we have Cowboys owner Jerry Jones cracking 'Zeke Who?' jokes to Cowboys reporters.
Colin argues that Jerry would have never made any jokes if Dak was holding out and would have been on a plane to Dak within hours if his quarterback was refusing to go camp.
Check out the audio below as Colin points to the fact that Zeke didn't even get paid as much as edge rusher DeMarcus Lawrence, and will end up making less than half of what Dak makes.

The Herd with Colin Cowherd
Want to know more about The Herd with Colin Cowherd? Get their official bio, social pages & articles on FOX Sports Radio!
Read more