Colin Cowherd Says the Browns Deserved Their Humiliating Week 1 Loss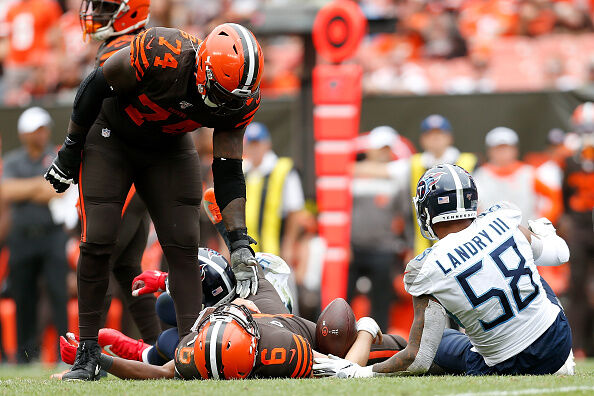 Colin Cowherd:

"Yesterday is exactly what Cleveland deserved. You ever gone to a party and you have all sorts of interesting people you want to talk to and hear from but you can't because the dumbest person at the party is also the loudest? The dumb guy has no success in his life but has alllllll the answers: THAT'S CLEVELAND. Their GM got fired – loudest GM in the league. Their quarterback had a losing record – loudest QB in the league. Their fans are a laughing stock and are the loudest fans in the league. Cleveland, you had no business ever one time calling yourself 'Dangerous'. You were nothing more than 'interesting'. If you're not humble, the league will humble you."

(Full Audio at bottom of Page)
Listen to Colin Cowherd blast the Cleveland Browns for their humiliating Week 1 loss versus the Tennessee Titans that saw Tennessee score 28 unanswered points in the second half to continue Cleveland's pathetically epic string of opening game losses.
Baker Mayfield threw three interceptions and was sacked five times in route to a 27.2 QBR while the Browns defense was carved up by the Titans' short-to-intermediate passing attack.
Colin chides Cleveland for having arguably the loudest offseason in the NFL, after reveling in a sea of hype previously never seen around their team in 30 years, only to suffer the week's most embarrassing loss.
Check out the video below as Colin says the Browns better humble themselves or end up getting humbled for an unforgiving league.

The Herd with Colin Cowherd
Want to know more about The Herd with Colin Cowherd? Get their official bio, social pages & articles on FOX Sports Radio!
Read more