Odell Beckham Jr. is Already Desperate to Stay Relevant in Cleveland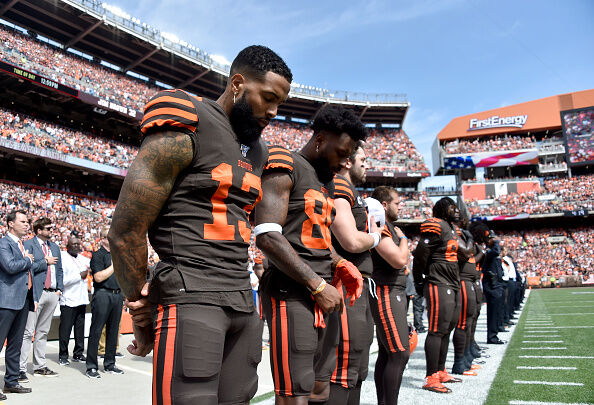 Colin Cowherd:

"Odell Beckham Jr. never wanted to go to Cleveland because it wasn't good for his brand, so now he's trying to make BRANDING a bigger part. He bought an orange Rolls-Royce and wore a $350,000 orange watch during the game to say 'Hey America, I'm still here!'… He's going to make several 'brand' plays while he's in Cleveland, and they don't necessarily relate to the masses in Ohio – $350,000 watches and orange Rolls-Royces. He wouldn't have had to do the Rolls-Royce or watch thing in New York because you get talked about there. If the Browns struggle, OBJ is still a losing player but now in a city where even in the Midwest no one talks about. This could get ugly and unravel if no one is talking OBJ."

(Full Audio at Bottom of Page)
Listen to Colin Cowherd explain why he thinks Cleveland Browns superstar wide receiver Odell Beckham Jr is already hating his time in Cleveland, as the effervescent wideout made headlines on Sunday for wearing a $350,000 designer watch on the field during Cleveland's blowout loss to the Tennessee Titans.
Beckham caught seven passes for 71 yards in his Browns debut, but Beckham's most notable play was wearing a Richard Mille watch during the game. The NFL does allow players to wear chain necklaces, but prohibits 'hard jewelry' in plain view.
Notable athletes like Phil Mickelson and Rafael Nadal have worn watches during competition, but tennis and golf are obviously not contact sports, with the watch becoming a safety hazard for not only defenders, but Beckham himself.
Check out the audio below as Colin says Beckham is already desperate for attention being away from the largest media market in the country, New York, and now needs to try cheap gimmicks like the watch, and previously the orange Rolls-Royce, to keep his name in the news and his brand in the limelight.

The Herd with Colin Cowherd
Want to know more about The Herd with Colin Cowherd? Get their official bio, social pages & articles on FOX Sports Radio!
Read more