Russell Wilson is the Most Unique Player in NFL History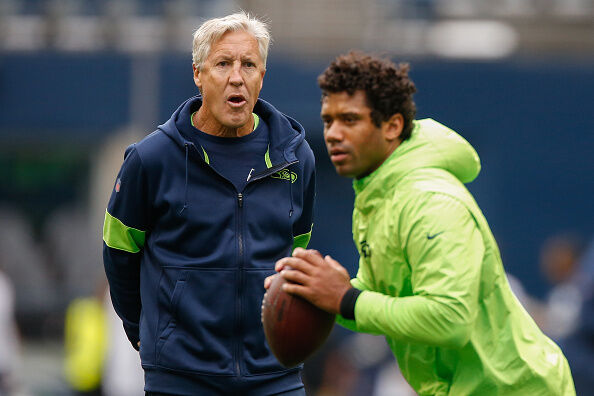 Colin Cowherd:

"For 14 straights years Russell Wilson has been sandpapering this gift and this style and it hasn't changed for anybody. It didn't change for his high school coach, it didn't change for his college coaches, and it's not changing for Pete Carroll. This is MAGIC. I don't even classify Russell Wilson as a running quarterback, 'THAT' is just his style. I don't even know what you call it; he's dancing, he's moving, he's finding space, and he's finding lanes because he's smaller. He's the most unique thing I've ever seen. He never panics, he never stresses, he slides perfectly, and his self-awareness is amazing."

(Full Audio at Bottom of Page)
Listen to Colin Cowherd discuss Seattle Seahawks quarterback Russell Wilson's mastery of the position, as the 30-year-old Wilson is putting up the best season of his career.
Wilson has a flawless 12/0 touchdown-to-interception ratio, leads the league in quarterback rating, and dropped a dominant 92.6 QBR game on the Rams defense in Seattle's Thursday Night Football victory over Los Angeles.
On Thursday's show, Colin said Wilson was the most underrated player in NFL history, as the former third round pick at one point was benched at North Carolina State because his college coach thought that now-Raiders backup Mike Glennon was better.
Check out the audio below as Colin explains why Wilson is one of the most magnificent football talents that we will ever get to witness.

The Herd with Colin Cowherd
Want to know more about The Herd with Colin Cowherd? Get their official bio, social pages & articles on FOX Sports Radio!
Read more