Ric Bucher Says Kevin Durant Wants a Sign-and-Trade to the Knicks or Nets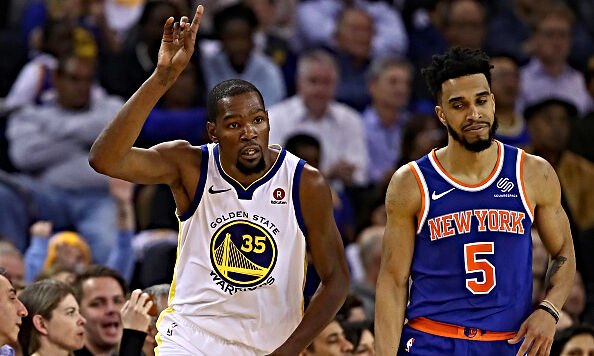 Ric Bucher:

"Kevin Durant doesn't want to stay with the Warriors. He wants to sign the 5-year supermax with the Warriors THEN have them do a sign-and-trade to the New York team of his choice. I don't know why the Warriors wouldn't be privy to this, it helps them, you get a trade exception, and you might get a second round pick out of it. You also do right on a guy who tried to help you three-peat with a ruptured Achilles."
Listen to NBA insider Ric Bucher join Chris Broussard and Rob Parker on The Odd Couple to discuss the ongoing developments into the free agency of Golden State Warriors superstar forward Kevin Durant.
Bucher says there is still a lot of bitter feelings between the two-time Finals MVP and the Warriors medical staff who has been at the forefront of some damning reports into the purported negligence relating to their handling of KD's calf injury that may have been an Achilles injury all along.
Check out the audio below as Bucher tells Rob and Chris that KD wants a sign-and-trade with the Warriors that would allow him to ink a five-year supermax that he wouldn't be able to get if he signed with another team, and result in him being traded to the team of his choice as well.