Chris Broussard Says the Lakers Are Now Kawhi Leonard's 'First Choice'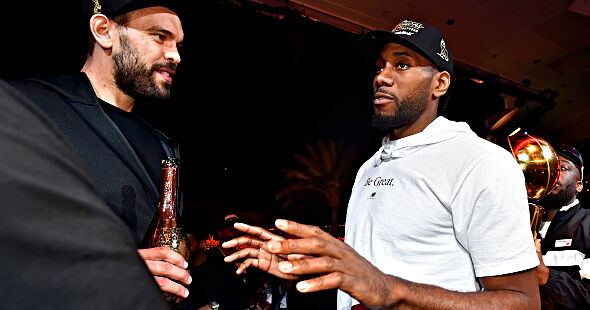 Chris Broussard:

"I'm being told the Lakers are Kawhi Leonard's first choice. He and his camp spoke with Magic yesterday and laid out what they want from the Lakers. Nothing crazy, just some additions to the staff and asking 'Is Kawhi going to be treated like LeBron in the organization?', and all of that. As long as Jeanie doesn't do anything to screw it up in the meeting I'm told that's his first choice."
NBA Insider and co-host of Fox Sports Radio's The Odd Couple Chris Broussard joined The Herd to talk about the developing news around superstar free agent Kawhi Leonard as the crown jewel of the historic 2019 NBA offseason is the last huge name left on the board.
After months of reports that had the Los Angeles Lakers a distant third to the Clippers and Raptors for the services of the two-time Finals MVP, Los Angeles used an Anthony Davis trade and clever payroll maneuvering to suddenly put themselves into position to afford another a third max contract on their team alongside AD and LeBron James.
Early Sunday reports had rumors of Kawhi seriously considering teaming up with LeBron and AD to form what would potentially go down as the greatest team in NBA history.
Check out the audio below as Broussard says the Lakers are Kawhi's 'first' choice and the clear frontrunners as of mid-day Monday.