Colin Cowherd Says Kyle Shanahan is the Next Bill Belichick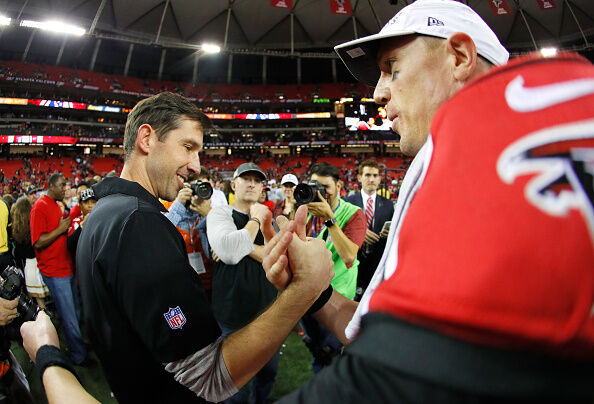 Colin Cowherd:

"When NFL.com comes out and puts Kyle Shanahan as the 23rd best head coach, what are you doing?? Shanahan has a doppelganger in this league, it's called Bill Belichick. Belichick was a great and legendary coordinator everywhere he went. If I told you while he was in Cleveland that you were looking at the next great head coach in the league you would have scoffed at it. Kyle Shanahan has had an incredible career as a coordinator. He made Matt Schaub a Pro Bowler and Matt Ryan an MVP. This is Belichick before he got a franchise quarterback. To put him 23rd is absurd and in two years you'll put him in the top 6. Sean McVay has the high cheek bones and is way better with the media so we all love McVay, but I think Shanahan is a better coach."
Listen to Colin Cowherd explain why he's taken great exception to an NFL.com article that ranked every single head coach in the National Football League and had San Francisco 49ers HC Kyle Shanahan ranked 23rd.
The 39-year-son of former Super Bowl winning head coach Mike Shanahan is only 10-22 as a head coach, going 6-10 and 4-12 in two seasons with the 49ers, but Colin thinks Shanahan has an immaculate resume as a coordinator that reminds him of Bill Belichick when he went from prized defensive coordinator with the New York Giants to budding young head coach with the Cleveland Browns.
Most people forget about Belichick's five-year stint with the Browns that saw him go 36-44 in five seasons, but one of those years including an 11-5 season and Wild Card victory in the playoffs (the franchise's last playoff win).
Shanahan has had immaculate success as a coordinator, as Colin points out that he got former Texas quarterback Matt Schaub to a Pro Bowl, made Robert Griffin III look one of the game's most feared phenoms, and got Matt Ryan an MVP award.
Check out the video below as Colin says Shanahan's current standing reminds him of Belichick before he stumbled upon Tom Brady, and thinks a healthy Jimmy Garoppolo will elevate Shanahan into one of the best head coaches in the league.