Why the Eagles Will Own the Cowboys and the Entire NFC East the Next Decade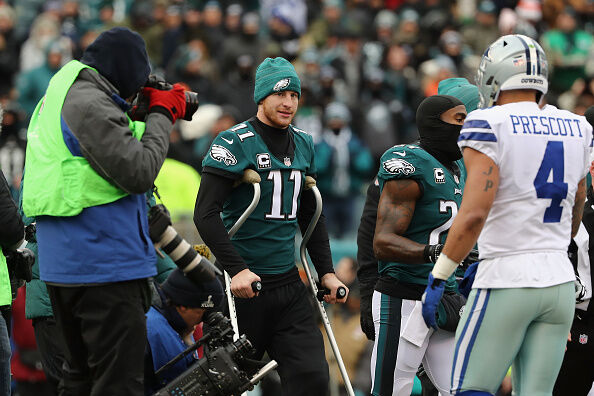 Colin Cowherd:

"In baseball they always say you gotta be 'good up the middle' –– catcher, pitcher, shortstop, second base, and centerfield. In the NFL you gotta be good in four spots: Owner, GM, coach, and quarterback. This is why I think the Philadelphia Eagles will dominate their division and dominate the Cowboys for the next ten years. Jeffrey Lurie their owner, Howie Roseman the GM, Doug Pederson the coach, and Carson Wentz are all B+ or A and if you're B+ or A in these big four positions you are a Super Bowl contender."

(FULL Audio at Bottom of Page)
Listen to Colin Cowherd explain why he believes the Philadelphia Eagles will dominate the NFC East division the next decade, as Colin is down on the Dallas Cowboys during their calamitous contract disputes as Dallas still is befuddled with how they're going to pay Dak Prescott and Ezekiel Elliott.
Colin says Carson Wentz's contract extension was one of the best moves in recent memory, as the team was able to steer clear of an embarrassing holdout by nailing down Wentz early in a timeshare type deal that will age well.
Check out the audio or video below as Colin explains why he thinks the Eagles have by far the best owner-general manager-coach-quarterback combination in the division.