Oregon Quarterback Justin Herbert Looks Like a Future NFL Draft Bust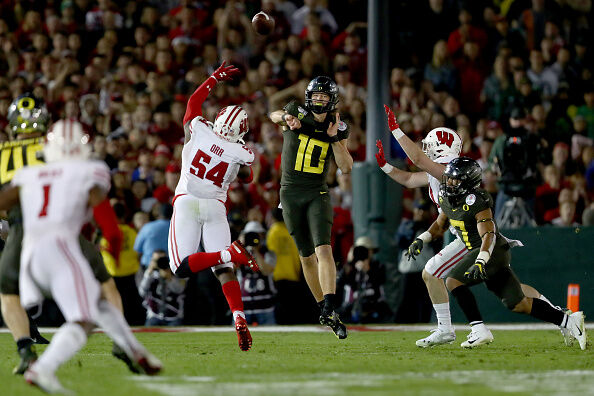 Jason Smith:

"There is not a guy that I am more afraid of drafting at quarterback than Justin Herbert of Oregon… I watched that Wisconsin game and thought 'I can't believe people think he's going to be accurate at the next level'. He turned the football over and all of Oregon's points were set up by their defense getting turnovers. He's supposed to be a dynamic quarterback but he only threw for 150 yards in a bowl game. He has too many hits and misses and he's so inconsistent. At times he looks like Josh Allen because he runs with the football but he didn't do it a lot during the season. I look and think 'My God is he inaccurate' and 'Where is he throwing the football??' He's a really dicey pick and the guy makes me really nervous."

(Full Audio at Bottom of Page)
Listen to Jason Smith explain why he has severe doubts into the NFL outlook of Oregon Ducks quarterback Justin Herbert, as the senior has unanimously been tabbed as the third best quarterback in the 2020 Draft class behind LSU's Joe Burrow, and Alabama's Tua Tagovailoa, but is a guy that is being coveted who will likely be picked in the top 15 and potentially the top 10.
Herbert didn't exactly enthrall NFL scouts and GM's throwing the football at the Rose Bowl versus Wisconsin, as he went just 14 of 20, for 138 yards, an interception, and zero touchdowns.
Herbert did account for 3 touchdowns on the ground, including a 29-yard burst that put the game away, but his 138-yard performance was the third consecutive game in which he failed to hit the 200-yard mark.
Check out the audio below as Smith explains why he believes Herbert could be the riskiest pick of the first round.