Colin Kaepernick Doesn't Want to be in the NFL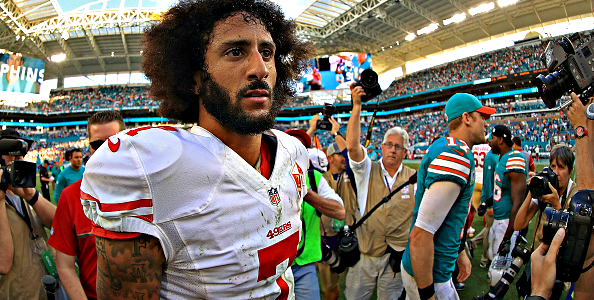 "Colin Kaepernick has given me no indication over the last 6 months that he cares a great deal about football."
After an inflammatory tweet made over the weekend by Colin Kaepernick took a shot at law enforcement, Colin Cowherd believes Kap's NFL career is obviously over, but also said it was a career that Kaepernick didn't seem to be all that interested in the first place.
Cowherd said Kaepernick's brand suddenly became one of social commentator that had little affiliation with the free agent quarterback who threw a pass in a Super Bowl less than 5 years ago.
"The people Kaepernick has surrounded himself with are not football people and they do not have his best interests; they have social issues they want to illuminate."
When it comes to controversial political statements, only a select few can get away with Kaepernick was pulling says Cowherd.
"When you are a world-class talent in law, medicine, sports entertainment, and engineering you can get away with more, we know that; there's a precedent. But when you're a marginal talent – and let's not argue over this, Kap's a marginal NFL talent – you have to show something special in the commitment area, in the coachability area, in the easy to get along with area, in the 'totally all in for the team' area. The less talent you have, the less non-focus, non-football that will be allowed."

FOX Sports Radio
Want to know more about FOX Sports Radio? Get their official bio, social pages & articles on FOX Sports Radio!