Stop Comparing Ray Rice With Kareem Hunt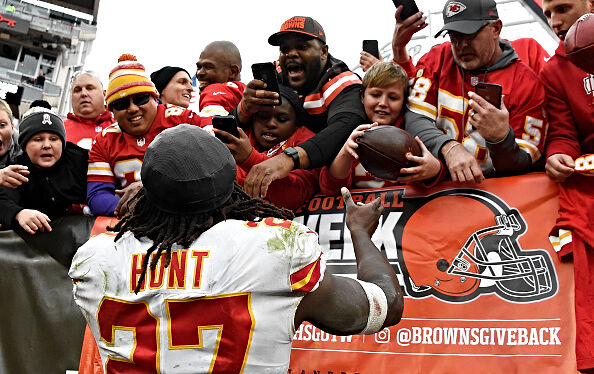 "It was not domestic violence, this is an important distinction that most people out there are too dumb to understand or they're just hopping on the soapbox to make a big argument."
-- Clay Travis.
Listen to Clay Travis explain why Kareem Hunt will play in the NFL again and why people shouldn't be comparing 2017's leading rusher to disgraced former All-Pro running back Ray Rice who was caught on surveillance video punching out his then-fiancé and now wife in an elevator.
Clay says the video of Hunt shoving a woman and then kicking her while she was on her knees obviously wasn't a good look at all for Hunt, who will now be forever tarnished from the incident, but says the actions need to go in the same realms of a bar fight, instead of being in the category as Rice.
Since domestic violence by definition requires an intimate relationship between the abuser and victim whereas Hunt barely knew the woman, Clay says the domestic violence tag attached to Hunt's name needs to be dismissed.
Listen to the full audio below as Clay says if Joe Mixon and Tyreek Hill can be stomached by NFL teams, both players with heinous pasts with women, then the former Chiefs running back can be as well.

Outkick the Coverage with Clay Travis
Want to know more about Outkick the Coverage with Clay Travis? Check out Premiere Networks!
Read more