Colin Cowherd Says Zion Williamson is the Next American Sports Icon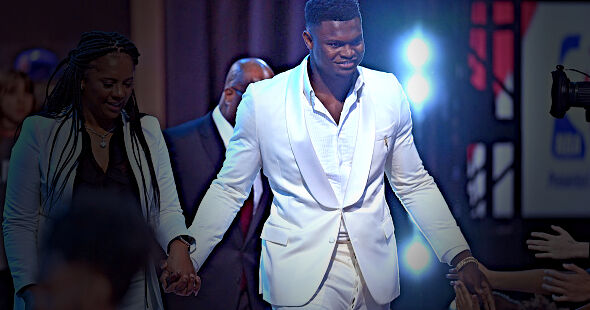 Colin Cowherd:

"The American media is wrong a lot but where they're usually right is when we tell you THIS teenager is a guaranteed 'American Superstar'. We told you about Tiger, we told you about Griffey, we told you about A-Rod, we told you about LeBron, we told you about Michael Phelps, we told you about Serena, and we told you about Pulisic. We have our next and it's ZION WILLIAMSON. His game is dynamic and doesn't look like anyone's else's, he has early momentum after going viral at 16, and he's got a charisma and personality you can't deny. He's likeable, he's relatable, he's handsome, he's humble, he's fun, he emotes, and he's embraceable."
Listen to Colin Cowherd explain why he thinks New Orleans Pelicans rookie Zion Williamson is guaranteed to become the next great American superstar as the former Duke phenom is waiting to begin one of the most anxiously anticipated professional careers in sports history.
Colin says the media is wrong about a lot of stuff, but argues that one thing they rarely get wrong is predicting where the next great prodigy is coming from, whether it was Alex Rodriguez, Tiger Woods, Serena Williams, or Christian Pulisic.
Check out the video below as Colin says Zion is a slam dunk to become a beloved sports icon.