Colin Cowherd: Giants Are Stat-Padding Daniel Jones to Push Eli Manning Out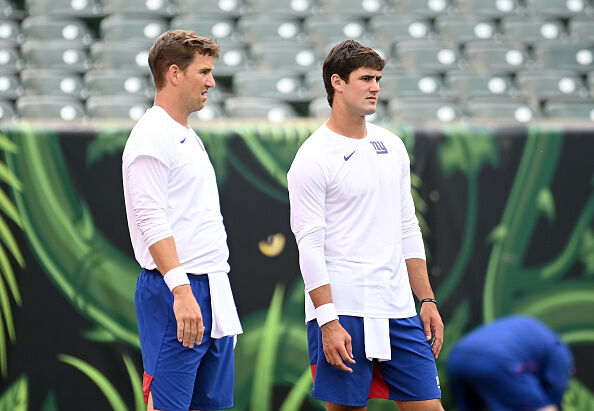 Colin Cowherd:

"Daniel Jones' preseason stats were cartoonish and looked like high school numbers. He was 29/34, 415 yards, TDs and no picks… But this is my belief: Pat Shurmur and John Mara knew after that 'Bench Eli' debacle with Ben McAdoo that they had to change the narrative. They had a little plan… First they released a video of Jones making perfect throws in practice, then there's a story of Eli not looking good at camp, and then I don't know if you noticed this, but the Giants have played their offensive line starters double more than most teams…Ahhhh, make sure Jones succeeds in the preseason. Why? Because when you're 1-4 or 2-5, you can create momentum with the media and the fans when the idea to bench Eli comes out. Folks, 85% completion rate?? Those were throws quarterbacks make in their sleep."

(Full Audio at Bottom of Page)
Listen to Colin Cowherd explain why he believes the New York Giants are going out of their way to elevate Daniel Jones' stock in the media and to the fan base, as the once maligned no. 6 overall pick is suddenly a budding rookie star that Giants fans are proudly boasting.
Jones finished the preseason with nearly immaculate passing stats, going 29 of 34 for 415 yards and two interceptions.
Cowherd, however, thinks Jones' surprising success isn't exactly what it seems. Colin believes the Giants are setting the stage for Eli's removal this season by planting a pro-Daniel Jones narrative.
Colin says the stories coming out of camp were conveniently pro-Jones and anti-Eli, and says the bloated preseason stats were a garden variety of simple throws and routes, behind an offensive line that was mysteriously playing all its starters more snaps than most teams do. Why? To make Jones look better, and to get the ball rolling on Eli's exit, with the franchise still gun shy from two years ago when they tried to get Eli out but ran into colossal media backlash.
Check out the audio below as Colin says the Giants are going through the motions to get Eli out and not have to suffer the outrage that was triggered two years ago when Geno Smith infamously replaced Eli.