Colin Cowherd: Clemson is the Scariest Team in the College Football Playoff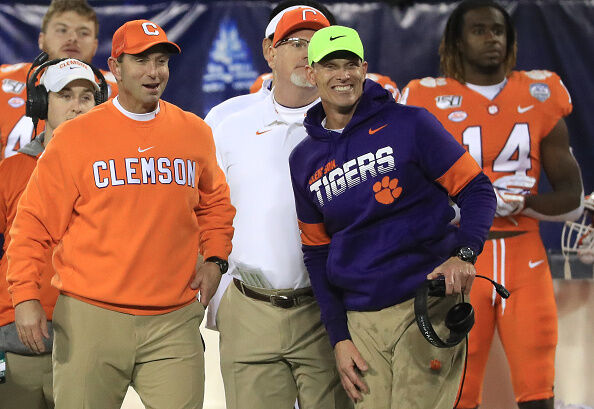 Colin Cowherd:

"We heard all year that 'CLEMSON IS NO GOOD, THEY HAVEN'T PLAYED ANYBODY!'… We also heard all year that 'THIS IS THE BEST OHIO STATE TEAM EVER!'… That's funny because Clemson is the favorite and wise guys in Vegas bet Clemson MORE when the number came out. You told Clemson players and their coaching staff all year that they're no good, overrated, and shouldn't even be a three seed. This is the best coaching staff in America, even Nick Saban admitted it when Clemson not only blew out Alabama last year in the title game, but the Clemson coaches blew out the Alabama coaches as well. They have three guys who will be head coaches on their staff and five-star players everywhere. Pete Carroll's USC teams didn't play anybody either and this criticism just helps Clemson. So, how overrated is Clemson? The last five times they have faced SEC teams they're 5-0 with mostly blowout wins. This is the best Ohio State team ever and go look at the point spread and what the sharps are betting. Do you like produce? HOW 'BOUT THEM APPLES OHIO STATE!"

(Full Audio at Bottom of Page)
Listen to Colin Cowherd explain why the Clemson Tigers are suddenly the scariest matchup in college football as the 13-0 Tigers finished off one of the most dominant regular seasons in the history of the Power 5.
The only problem was that it came in the scrawny Atlantic Coast Conference, whose 2019 version may have been one of the least competitive in the history of the power 5 as well.
Yet, here we are going in the playoff with Clemson, the 'overrated' defending champion who has drawn comparisons to the 2014 Florida State team all year, listed as the betting favorite over an Ohio State Buckeyes team the media anointed as the best Ohio State team ever, and possibly one of the best of all time.
2014 FSU, of course, was the defending champion who lost too much talent to the NFL but willed themselves to the College Football Playoff before being annihilated by a Marcus Mariota-led Oregon team.
Check out the audio below as Colin details why months of Clemson-bashing around college football has been completely silenced after we just saw LSU and Ohio State both lunge for the no. 1 seed knowing they didn't want any part of the terrifying Tigers in the first round.