49ers Should Get Rid of Jimmy Garoppolo and Sign Tom Brady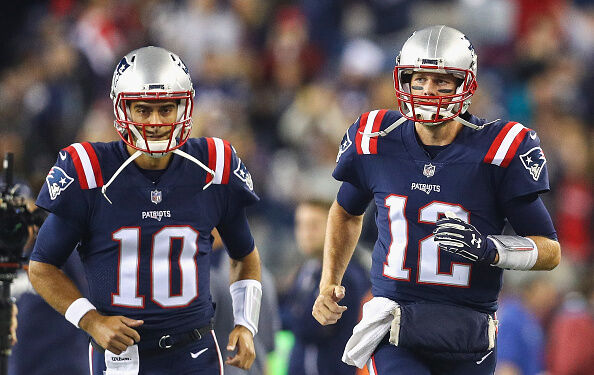 Ben Maller:

"Jimmy Garoppolo was a liability for the 49ers during this playoff run. The Niners have an escape clause in Jimmy G's deal and they're going to have to make a decision here. They can take the potential out and escape from the financial liability that they have with Garoppolo and wash their hands of Jimmy G. This would be an amazingly bold move for them to do and the chances are very slim, but it's an option that will be kicked around… I know for a fact that Bill Belichick would welcome back Garoppolo with open arms and Brady would be able to go back to the bay area with a team with a loaded defensive line. Boy, would that be some drama. The Chiefs don't think much of Garoppolo, and were happy and excited that they put the ball in his hands. The Honey Badger even said that the Chiefs were 'grateful' that the 49ers got out of the running game and started throwing. That's a referendum on Garoppolo that the other team pretty much admitted that they hadn't of won the game if not for the ineptitude of Garoppolo."

(Full Audio at Bottom of Page)
Listen to Ben Maller explain why he thinks the San Francisco 49ers should strongly consider moving off incumbent starting quarterback Jimmy Garoppolo and sign free agent legend Tom Brady on the heels of their epic Super Bowl LIV choke job.
Garoppolo has suddenly become one of the most polarizing players in the league, as many around the media believe that 'system quarterback' Jimmy G held back the league's best roster, and was the biggest reason they weren't able to hold off Kansas City in the fourth quarter.
Even Chiefs players went on record saying they were grateful the Niners stopped running the ball in the fourth quarter, and were thrilled to see Garoppolo throwing late in the game.
Check out the audio below as Maller details why the Niners should part ways with the team's biggest liability and bring in a Hall of Famer who grew up a diehard San Francisco fan.