Chris Simms Says Aaron Rodgers is the Greatest Quarterback of All Time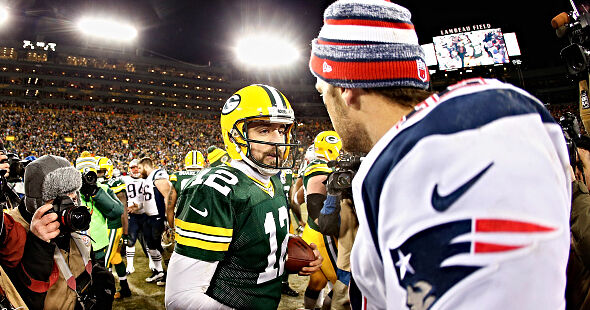 Chris Simms:

"I still think Aaron Rodgers is the greatest quarterback of all time. He's the quickest to ever get to 40,000 yards, he has the great touchdown-to-interception ratio in the history of the sport and it's not even close who's second. It hasn't been weapons galore up them either. I'm not trying to hate on Tom Brady, because Brady is awesome, I'm just trying to explain to people that there's more to the game than just going wins/losses/stats and the quarterback is always the reason you win and that's it. If that were the reason Nick Foles would never beat a Tom Brady in a Super Bowl…"
"Let's let look at the plays Aaron Rodgers has to make late in the fourth quarter; the degree of difficulty is off the charts. With Brady, not so say that it's easy, but 'oh, look, Julian Edelman is wide open across the middle on 3rd and 10 vs. the Chiefs and he hit the receiver!' 'Oh my gosh a slant to Rob Gronkowski!' I gotta up him in my rankings on hitting slants!'"
Listen to former NFL quarterback Chris Simms explain on The Dan Patrick Show why Aaron Rodgers is the greatest quarterback of all time, despite Tom Brady putting together the winningest career in Super Bowl history.
Rodgers and Brady have long been compared since Peyton Manning began to fall off in the mid-2010s, but Brady's sixth Super Bowl ring this past season seemed to shelve the debate forever, as Rodgers has managed to only get to one Super Bowl, winning his only appearance in 2011 versus the Pittsburgh Steelers.
Check out the video below as Simms says there's a lot more to the discussion than just wins and losses.