Clay Travis: Lamar Jackson Hasn't Proven He Can Make Difficult Throws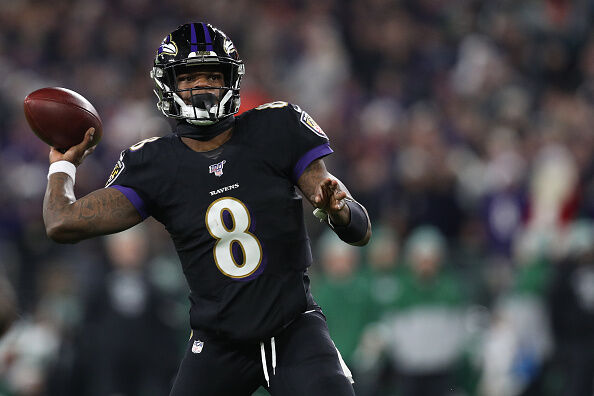 Clay Travis:

"Lamar Jackson is not throwing the ball deep very often. To the credit of the offense, if you go back and look at every throw he makes, they have tight ends and wide receivers who are WIDE OPEN. It's rare to have guys to throw to that are THAT open in the NFL. It seems almost every time his first read is wide open too. He drops back to pass and the ball is out of his hand almost instantaneously and he's either got a tight end against a defender who can't cover him, or if he does take a shot down the field it's a great matchup. I think the defense is so afraid of the play-action fake that his first read is almost always there. It's uncanny how quick he can get rid of the ball to his first read."

(Full Audio at Bottom of Page)
Listen to Clay Travis and the Outkick the Coverage crew discuss the potential longevity of Baltimore Ravens quarterback Lamar Jackson as one of the most exciting players in league history has been one of the most polarizing as well ever since he entered the league.
Clay has always been on the fence about the long-term success of a running quarterback following in the footsteps of notable mobile quarterbacks of the past the likes of Colin Kaepernick, Robert Griffin III, Tim Tebow, and Vince Young, who enjoyed electric success early out of the gates of their careers, only to later come plummeting back down toward earth when the physicality of the game coupled with the expectations of throwing in the pocket being too much of a liability.
Despite Jackson being the heavy front-runner for MVP, including leading the league in QBR and touchdown passes, Clay thinks Jackson has done the vast majority of his damage through the air from his first read, or from a perfectly designed play that had him simply connect on an easy pitch and catch to a wide open receiver or tight end.
Check out the audio below as Clay details why Jackson's success has more to do with offensive coordinator Greg Roman's scheme and the personnel around Jackson, thann Jackson's individual play.